Libya detains 600 migrants as Europe struggles with tragedies
Comments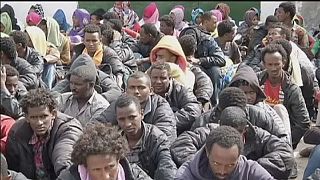 Libya said on Tuesday it had stopped several boats packed with migrants since this weekend's shipwreck disaster, and that it was detaining more than 600 Africans who were hoping to reach Europe.
Libya was thrown into chaos following the ousting of Muammar Gaddafi in 2011 and has become a major hub for migrants heading to Italy on rickety boats.
The Mediterranean shipwreck that killed 800 migrants this weekend has sent shockwaves across Europe. Protesters gathered in front of the Italian Parliament on Tuesday, carrying numbers representing the lives lost at sea and urging governments to do more to help migrants in danger.
"We are here to ask for human rights protection of migrants and refugees, because there is a need in the Mediterranean Sea that European governments should put in place the search and rescue operation," said Fernando Chironda, a member of Amnesty International who attended the demonstration in Rome.
The European Union has proposed doubling the size of its search-and-rescue effort in the Mediterranean and an emergency summit is scheduled for Thursday.
A decision to scale back Italy's search-and-rescue operations last year – amid budget pressures and criticism that rescuing migrants lures more to cross – appears to have only increased the risks for migrants, without lowering the numbers attempting the journey.
The UN said that if nothing is done, more than 30,000 migrants could die this year alone.
The Italian coast guard said 750 migrants were rescued from rubber dinghies in various operations since Monday. Merchant ships and coast guard patrol boats also helped a fishing boat carrying migrants off the southeastern coast of Calabria, in mainland Italy. All 446 aboard were rescued.