Libya, hazardous pathway for African migrants streaming to Europe
Comments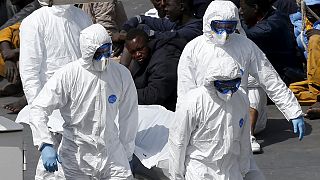 Libya has been the main launch pad for African migrants heading for Europe since the downfall — assisted by NATO countries' bombers — of Muammar Gaddafi in 2011. A disintegrated state, Libya shares long and porous borders with some of the continent's poorest and most violent countries, leaving the gates wide open to people smugglers. According to Italy's foreign minister, 10% of Libya's GDP comes from this trafficking, the money going to militias and terrorist groups.
A migrant from Niger said using the pathways has become commonplace: "In a fast car, it's three days' ride here from Arlit, depending on the route you take."
The main routes are from Mali, Niger and Somalia. They redivide at the Mediterranean Sea, mostly splitting off towards the European coasts of Lampedusa, Sicily and Malta.
Libya used to be a destination in its own right, for some sort of work. Not any more. Too violent, its economy in tatters, the migrants push on through..
A Gambian migrant said: "I was working in Libya, found it very difficult there. I found that even to work was very difficult, so I decided to take the risk and come."
Heavily armed factions battle for control of Libya, on one side a so-called regular army led by the highly controversial General Khalifa Hafter, supporting the government in Tobruk,
on the other side the Islamist forces Maylis al Shura and Zuar de Benghazi. The attempted transition to democracy failed, and two rival governments were established.
The Tobruk government is the one recognised internationally, including by Egypt and Saudi Arabia. The rebel government in the capital Tripoli does not recognise Tobruk as the sole governing authority.
The United Nations has tried to reconcile the two, proposing that a legislative assembly be based in Tobruk and a senate in Tripoli. Special envoy Bernardino Leon's efforts have not, so far, born fruit. Turnout for elections has reflected a general lack of confidence in the process:
Joining this chaos are Al Qaeda in the Islamic Maghreb and, more recently, the self-proclaimed Islamic State movement, who have claimed authorship of a series of attacks against embassies in Tripoli.