Migrant ship captain accused of multiple homicide over shipwreck
Comments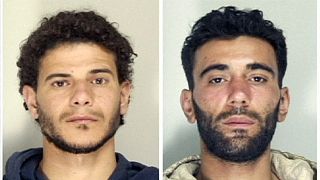 The captain of the migrant ship involved in Sunday's disaster off Libya has been detained in Sicily, alongside a crew member – both suspected of smuggling migrants to their deaths.
Facing charges of multiple homicide, its claimed Captain Mohammed Ali Malek, 27, steered his severely overloaded boat into a collision with a merchant ship coming to its rescue.
Despite the consequences – up to 900 dead – the Tunisian Captain and a Syrian crew member, named as Mahmud Bikhit, 25, were seen smiling on deck at Catania in Sicily as survivors were taken ashore.
"We have arrested two people, two presumed traffickers, who were part of the crew: the captain of the shipwrecked boat and a crew member," Catania Prosecutor Rocco Liguori told reporters.
"The crimes the captain is accused of include facilitating clandestine immigration, causing a shipwreck and multiple homicide, while the crew member is accused of facilitating clandestine immigration."
On a luxury yacht by comparison, identified by selfies and other photos taken by passengers, a trio of Syrians have also been detained on Sicily suspected of human trafficking.
It is claimed their passengers – 99 migrants including children – were charged at least 8,000 euros each for passage on a yacht equipped with food and water, to head to Europe in the guise of tourists.