Turkish PM offers his 'deep respect' to Ottoman Armenians
Comments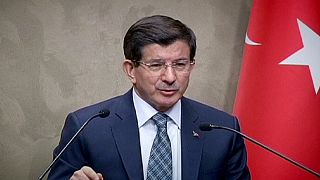 The prime minister of Turkey Ahmet Davutoğlu has offered his deep respect to Ottoman Armenians who lost their lives during what he described as "the relocation in 1915".
His statement comes as tens of thousands get ready to mark the 100th anniversary of the World War I massacre of up to one and a half million Armenians.
Turkish government spokesman Bulent Arinc said: "We commemorate Ottoman Armenians who lost their lives and we extend our sympathies to their grandchildren. It is a historical and humanitarian duty for Turkey to embrace the memory and cultural heritage of Ottoman Armenians."
Earlier this month, Pope Francis prompted a row with Ankara when he publicly called the killings "genocide," a term rejected by Turkey.
The head of the country's religious affairs directorate said the pope's statement was immoral and irreconcilable with basic Christian values.
"Religious leaders of this century should leave the pains of one hundred years ago behind, they can pay attention to these incidents as well, I don't criticise it but they should do an accurate reading of history. They should not act under the influence of political lobbies," said Mehmet Gormez.
The 100th anniversary on Friday (April 24) of the World War I massacre by Ottoman Turkish forces has stirred controversy, with Germany set to join France, the European parliament and the pope in using the term "genocide."
Turkey denies that the killings, at a time when Turkish troops were fighting Russian forces, constituted genocide. It says there was no organised campaign to wipe out Armenians and no evidence of any such orders from the Ottoman authorities.
A religious ceremony will be held by the Armenian Patriarchate on Friday when Ottoman Armenians will be remembered in Turkey.