Recordbreaker! Japan bullet train goes like a ... well it's fast!
Comments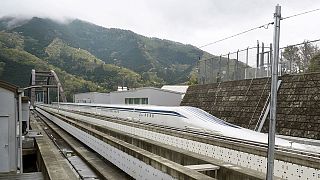 The fastest bullet train in the world has broken its own speed record during a test run.
Japan's maglev train reached a record speed of 603 kilometres per hour during a manned test run on Tuesday.
The magnetically levitated passenger train will travel between Tokyo and Nagoya, a distance of around 300 kilometers, in just 40 minutes.
Its previous speed record was just 590 kilometers an hour.
"This train is set up the same way as we will use it commercially," said Yasukazu Endo, head of Yamanashi Maglev Test Track centre, Central Japan Railway. "So, we have seen that the comfort of passengers at this high speed has improved. I think such test results should lead to a stable commercial use in the future."
Ordinary passengers need to wait a little longer before they will get a chance to try out the super-fast train.
Central Japan Railway plans to launch the service in 2027.