Migrants drown as boat runs aground off Greek island of Rhodes
Comments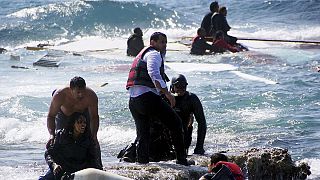 More migrants drowned in desperate efforts to reach Europe on Monday, when their boat ran aground off the Greek island of Rhodes.
Rescuers did their best to pluck survivors from the waves. Some 90 people were reportedly saved.
But coast guards said at least three bodies had also been recovered – those of a man, a woman and a child.
Around 30 of those pulled ashore from the floating debris of their wrecked vessel have been taken to hospital.
The latest disaster unfolded as it became clear that the death toll from Sunday's tragedy off the Libyan coast was likely to be the highest in modern times among migrants trying to cross the Mediterranean.
Officials said there had been at least 700 people on board that stricken boat, some reportedly locked in the hold.
Days earlier, another wreck is believed to have killed around 400 people.
The start of a new week has brought more death and misery.
"The International Organization for Migration": http://www.iom.int/cms/home said a number of other vessels had sent out distress calls on Monday.
On one sinking boat in the Mediterranean, at least 20 people are said to have died.
Like Italy, Greece is a gateway into the EU for migrants fleeing persecution or poverty.
More than 10,000 landed on its shores in the first three months of 2015 according to authorities – over three times more than the same period last year.
Athens has announced new measures to deal with the huge influx but the new government has reiterated calls for help from the EU.