Migrant crisis: What options does Europe have?
Comments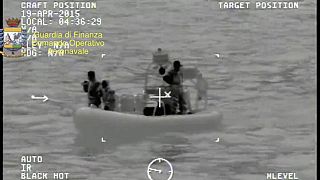 Another hulk vessel in which hundreds drowned lies on the Mediterranean Sea bed.
The latest loss of migrants' lives is the worst since October 2013, when Italy reacted by creating the search and rescue Operation Mare Nostrum (Latin for "Our Sea"). A vessel with 500 men, women and children on board had sunk, taking most of them with it. They died not far from the Italian island of Lampedusa near Tunisia.
Mare Nostrum lasted for one year and was discontinued because of the cost. The death toll mounted in 2014, the UN declaring the Mediterranean migrant crossing routes the world's deadliest. In one sinking off Libya in September, 200 people perished and only 36 were saved.
Now, 2015 has overshadowed last year. February was bad; then in April it got worse. The same pattern emerges each time. The overcrowded, unstable, inflatable boats are in bad condition, their motors giving out.
Over a number of years, the wars in Syria and Libya forced people to make desperate choices, take risks; 3,500 died in 2014. So far this year, more than 900 migrants' bodies have been recovered from the sea. Predictions are that with summer coming that number will jump.
Italy couldn't afford Mare Nostrum, at around nine million euros per month. A replacement plan with 19 participating EU countries and less than three million euros per month was dubbed Operation Triton, with smaller and fewer patrol vessels, not going out as far, hugging the Italian coast.
Anyone abandoned by traffickers on the open sea, therefore, is beyond Triton's scope.
Those who make it to the Lampedusa Reception Centre find it crowded. It often houses 1,000 people but was built for 380.
A senior prosecutor in Palermo, Sicily, involved in the investigation into the 2013 sinking deaths, put the number of migrants ready to take to the traffickers' perilous boats on the other side of the Mediterranean Sea at one million.
"Joining us here in the studio in Brussels is Mrs Aspasia Papadopoulou, senior policy officer at the European Council for Refugees and Exile.
Almost one year and a half after the tragic events of Lampedusa, we are again at a zero point. The EU cannot face efficiently the tragedies in the Mediterranean. Why? What went wrong?"
"The European Union has not taken the issue seriously. You have the impression European countries don't really care about saving people in the Mediterranean. It's only when they see death on their doorstep that they become alarmed. All they have done during this last one and a half year was to put more emphasis on surveillance and border management and they haven't done anything about creating the possibility for people to come here legally. So, if you look at the nationalities of the people they are fleeing it is Syrians, it is Eritreans, it is people that are fleeing for their life. They are fleeing conflicts, they are fleeing dictatorships, they will leave no matter what. And if you try to address smuggling and trafficking only, you are only addressing the symptoms. But if you want to put smugglers out of business you need to create the opportunity for people to come legally."
"We heard Mrs Mogherini, the EU chief of foreign affairs, speaking clearly about sharing the burden and sharing the responsibility. Again, could the Dublin II Regulation be on the table? Because right now, Italy for example, cannot send asylum seekers to other member states."
"Dublin is the system that is in place for a number of years now and it has been revised, at the same time there are number of problems with that system. The member states in the periphery are just the evidence of the fact that the system is not working, it is creating more vulnerabilities for the people as well, for the migrants themselves, and it is also creating an unfair burden for the countries of the European periphery. There should be a different system in place that ensures that responsibilities are allocated equally and also the preferences and the family ties of the refugees themselves are taken into account. So, it's not about distributing numbers of people, it's also about where this person has a family, where could that person have a viable future."
"What would be for you an effective EU emergency strategy right now because all the international organizations say that during the coming months the problem will be worsened."
"I think what we saw this weekend will happen more and more. The season is now pretty warm and it will be actually a long time until summer we will see much more of this and it will be just more and more dramatic. And it is really urgent to create a search and rescue mechanism. This is not something entirely complicated to do as long as there is a political will and the assets that can be provided by member states and the support by Frontex, this can happen very soon and can be in place in the Mediterranean to help at the immediate stage of people arriving. At the same time there are certain measures that are in place, such as for example resettlement, humanitarian visas. These can be used to give the possibility to the most vulnerable to get here legally and not have to use a smuggler. A Syrian family in Beirut or an Eritrean family in Tunis right now has very few options to get here legally. But those options that we have, we should use them."