Migrants accept death risk, enrich Mediterranean traffickers
Comments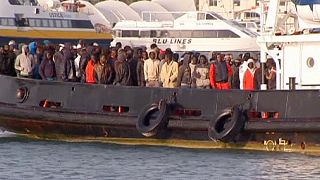 Hundreds of immigrant survivors of desperate Mediterranean crossings fill the Lampedusa reception centre. They are among the rising thousands who risk death to flee their countries for Europe.
A pair of twins from Aleppo, Syria, left behind mother and sister. They paid traffickers in Libya roughly 1,400 euros each for their escape voyage.
One said: "They locked us in a room for a long time, feeding us a bit of cheese and bread once a day. It was torture. We were verbally abused and insulted. A different person came in every day — we couldn't keep track — new people, with their weapons."
His brother added: "We'd been at sea for 15 hours when the motor started to die, but God protected us. Every time it shook we felt we were going to capsize, that we were going to die any minute. We had children on board but we were very scared and didn't make a move to protect them."
Danish merchant ship Maersk Ellen saved 194 mostly Gambian seafarers a few days ago, from the Strait of Sicily, bringing them to the port of Trapani.
One of those survivors said they suffered for three days in the water before rescue came. They tried to call on their mobile phones but their credit ran out. There were no life jackets.
Another Gambian said: "I was not afraid because I took this risk to come. If I was afraid I could stay or go back but we have the faith that we will reach."
Faith is rewarded when the Red Cross helps the new arrivals on Italian soil, treating them for in shock and exposure. The International Organisation for Migration says this year's death rate is ten times last year's, yet more and more people accept the risk.
Another migrant from Gambia said he paid the equivalent of around 600 euros to a trafficker in Libya. "For this trip I paid almost 900 dinars. I guess that if I come here, I want knowledge, I want to be educated, I want expertise."
For all the migrants, Europe — promoting humanism and diversity values — is a dream of salvation. But for the unluckiest the Mediterranean is a grave.