Zuma tries to reassure migrants after xenophobic attacks
Comments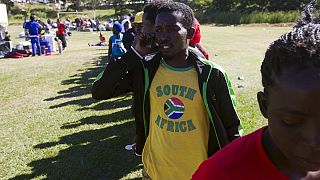 Foreigners in South Africa queue up in a makeshift camp to leave the country and escape the wave of anti-immigration violence.
Saturday saw tightened security measures in cities and another reported death – though it's not clear if there's a link to the outbreak of xenophobia.
President Jacob Zuma visited the camp in Durban where the violence started after cancelling a trip to Indonesia – and tried to reassure the crowd.
"Those who want to go home they must know that when we have arranged everything, when we have stopped the violence, they are still welcomed as they came," he said.
The president was heckled by some – and there were cries of "too late" and "go home".
That's what several migrants set about doing themselves, boarding buses provided by neighbouring countries to take them home.
In Durban the violence has died down, but at least six people have been killed in the city's xenophobic attacks.
The violence began after Zulu King Goodwill Zwelithini reportedly said "foreigners should go home".