Egyptian court moves toward death penalty for hooligans
Comments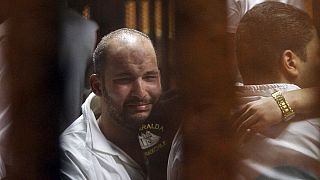 An Egyptian court has moved closer toward executing 11 men for deadly soccer violence.
Seventy-three people were killed and more than 1,000 injured during a pitch invasion at a stadium in Port Said in 2012.
During televised proceedings on Sunday (April 19), the trial judge referred sentencing to Egypt's Grand Mufti, the country's most senior Islamic authority. His decision is not binding, but the referral is needed before the death penalty can be imposed.
A first trial in 2013 found 21 people guilty and they were all sentenced to death. However the sentences were overturned a year later and the High Court ordered a new trial.
The case could be subject to further appeal, which could take several years.