Replica of famous French frigate retraces historic voyage
Comments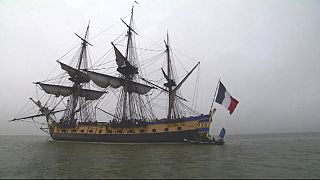 A French sailing team is retracing an historic trans-Atlantic journey.
A replica of a French navy frigate that took troops and supplies to the US during the American Revolution has set off from Fouras in the Charente-Maritime region.
The Hermione is a 25-million-euro copy of the vessel that crossed the Atlantic in 1780, laying the foundations of US-French relations.
The original journey took 38 days, carrying the Marquis de Lafayette, who played a vital role in the USA securing independence from Britain.
During the war of independence from 1775 to 1783, France was allied with the Americans against Great Britain.
French military and other assistance was considered to be a major boost that led to the victory for the Americans.
The replica of the Hermione is scheduled to arrive in Yorktown, Virginia, on June the 5th.
The captain, Yann Cariou, told euronews: "We can say this vessel is the most difficult in the world to navigate and to master.
"We have rigging from the 18th century but it's also a high-performance warship. It's the equivalent of today's racing yacht, but it weighs 1,000 tons."
Crew member Nicolas Chambon said: "We had to have good training because what we do is very dangerous, and things can very quickly turn into a catastrophe.
"We pay a lot of attention to what we learnt … you have to be serious and rigorous."
A group of sailing enthusiasts first had the idea to build a replica of the Hermione back in 1993, and construction began four years later.
The French President was one of those to visit the vessel on Saturday and wish the crew luck ahead of the commemorative voyage.
Click here to visit the Hermione website.
French president in front of "L'hermione", french frigate replica , which will leave france for the USA today. via … pic.twitter.com/AClWJOOmSM

— Reddit Pics (@redditpicsbot) April 18, 2015
Beautiful ship! Replica #French sail #frigate L'HERMIONE to cruise US coast this summer http://t.co/ijUs6nJ7Qxpic.twitter.com/2UPwkw6NFR

— Chris Cavas (@CavasShips) March 29, 2015
Euronews crew spends some hours on the #hermione, the Lafayette ship replica. pic.twitter.com/0FC87qxJl4

— euronews (@euronews) April 18, 2015
#France – Replica of French frigate L'Hermione to cross Atlantic ocean. Photo Xavier Leoty #AFP#Hermionepic.twitter.com/KC9mGsBMBS

—

AFP

Photo Department (@AFPphoto) April 18, 2015