Nemtsov and Navalny opposition parties join forces against Putin in Russia
Comments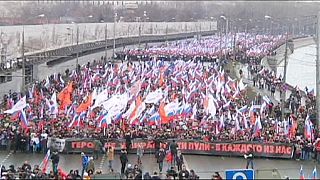 Amid the protests following the murder of Boris Nemtsov, two Russian opposition parties are joining forces to counter the Kremlin, who many believe bears responsibility for the dissident's death.
The political party Nemtsov formed is to run for election with the party of another opposition activist, Alexei Navalny – although its chairman said the move was not a merger.
Both parties called for a common platform to reject lies, corruption and aggression and build a democratic state.
A third small party is also set to join.
Navalny and other critics of the Kremlin have been prosecuted and convicted of charges they denounce as political.
Previous attempts by opposition groups to unite have failed as they have agreed on little other than opposition to Putin.
The new alliance says it will begin by running in regional elections ahead of next year's parliamentary vote.