Iran says Saudi Arabia "sowing seeds of hatred"
Comments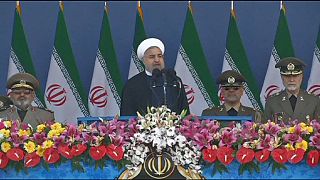 Iranian president Hassan Rouhani has lashed out at Saudi Arabia over its continued bombing of Shiite rebels in Yemen.
Speaking at the annual Army Day parade in Tehran, Rouhani also said the Saudi regime was sowing the seeds of hatred through its support of Sunni militants in the Middle East:
"What does providing financial assistance and weapons to terrorists in Syria, Lebanon and Iraq mean?" he asked the Saudi government from a podium in front of the mausoleum of the late revolutionary founder Ayatollah Khomeini. "What does the bombing of innocent and oppressed people of Yemen mean? What goals are you pursuing?"
Saudi Arabia has been launching airstrikes against Huthi rebels and allied fighters close to Yemen's former president, Ali Abdullah Saleh, for weeks. Iran supports the Shiite group but denies arming them.
A new Iranian-made missile, the Bavar 373 system, was one of the weapons on display during Saturday's parade.
Earlier this week, Russia announced that it had removed a ban on supplying Iran with an updated air defence missile system. The long-delayed contract dates back to 2009 but was delayed at the request of the American government.