Migrant deaths in Mediterranean soar, while horror stories pour in
Comments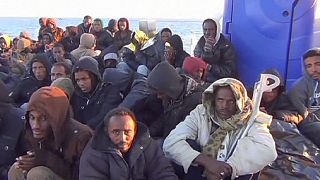 The wave of migrants desperate to reach Europe continued to unfurl into Italy on Friday, with hundreds more rescued as they crossed the Mediterranean in overcrowded boats.
Over 10,000 migrants have reached Italy this past week alone (April 10-17).
The number of people embarking on the risky journey to Europe is roughly stable compared to the same period a year ago, but the number of those dying along the way has jumped almost ten-fold, according to the International Organization for Migration (IOM).
Some 900 people have died so far in 2015 while crossing the Mediterranean towards Italy, compared to 96 a year ago, according to the IOM.
Horror stories from survivors keep pouring in.
Early on Friday (April 17), around 70 men, women and children, mainly from sub-Saharan Africa, were rescued from a rubber dinghy and taken to the island of Lampedusa. Most suffered heavy burns from the explosion of a gas cylinder prior to their boarding. They received no treatment during their two days at sea, and a 25-year-old woman died on the way.
Meanwhile, 15 Muslim migrants from Ivory Coast, Mali and Senegal were detained in Palermo, suspected of throwing a dozen Christians overboard during the crossing from Libya. They have been charged with murder motivated by religious hatred.