A deadly day in Iraq: Three car bombs in two cities kill at least 30
Comments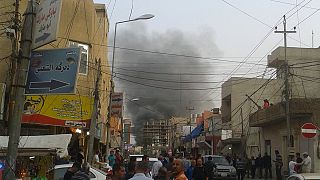 Three car bombs have exploded in separate areas of Iraq, killing at least 30 people.
Erbil
Islamic militant group ISIL has claimed responsibility for a car bomb detonated outside the US consulate in Erbil, according to the jihadist monitoring group SITE.
Islamic State claims responsibility for car bomb attack outside U.S. consulate in Erbil: http://t.co/yOLDL0IhhXpic.twitter.com/gEfPtnHdUF

— Reuters Top News (@Reuters) April 17, 2015
Initial reports suggest at least three people died and five were wounded in the attack in the capital of the autonomous region of Kurdistan.
The US State Department confirmed no American personnel had been killed in Friday morning's blast, which witnesses say occurred outside a café.
Once considered Iraq's safest province, Kurdistan has become more dangerous in recent weeks; a factor US officials attribute to the rise of ISIL.
Baghdad
Several hundred kilometres to the south, in the Iraqi capital Baghdad, at least 27 people were killed when two car bombs exploded.
#iRAQ- 12 people killed & dozen more wounded when separate bomb attacks struck public places around #Baghdad. AP pic. pic.twitter.com/6jmXjV3euh

— Terrormonitor.org (@Terror_Monitor) April 17, 2015
One is believed to have been detonated in a market in the Hay al-Amel neighbourhood in the city's southwest. Police and medical sources say the other attack took place in the eastern district of al-Habibiya.