Pollution alert after a fuel-laden trawler sinks off Canary Islands
Comments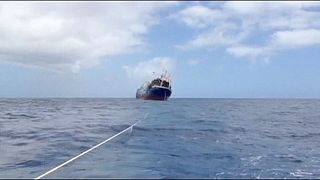 A Russian fishing trawler full of fuel has sunk off the Canary Islands.
The Oleg Naydenov caught fire over the weekend while in Las Palmas port when it was ready to set sail.
…and it's under. Fuel-laden 'pirate' Oleg Naydenov sinks off Canary Islands http://t.co/aaseRgzBBt via Reuters</a> <a href="http://t.co/FmJ5LFC0g5">pic.twitter.com/FmJ5LFC0g5</a></p>&mdash; Greenpeace PressDesk (greenpeacepress) April 15, 2015
The ship was towed out to sea to keep the fire under control but it sank on its way back.
The Marine Rescue Service has mobilised anti-pollution resources to check whether there has been and fuel spillage.
The trawler, which could have had up to 1,400 tonnes of fuel on board according to Greenpeace, sank to a depth of about 2,400 metres, south of the beach of Maspalomas, which is famed for its sand dunes.