Journalist with pro-Russian views shot dead in Kyiv
Comments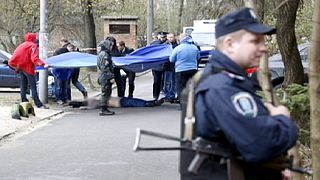 A journalist known for his pro-Russian views was shot dead in Kyiv on Thursday (April 16).
Oles Buzyna was gunned down near his home by two masked men in a car according the Interior Ministry.
Buzyna had been an active blogger and was briefly editor of the pro-Russian daily newspaper Segodnya.
The Interior Ministry thinks his murder may be connected to the killing the day before of pro-Russian Ukrainian MP Oleg Kalashnykov, who was shot five times near his flat in the Vinogradar district of the city.
The MP had been a member of Ukraine's former pro-Russian President Victor Yanukovych's party.
Ukrainian President Petro Poroshenko has ordered an investigation into the murders.
Four members of the party have died within weeks.
Meanwhile earlier on Thursday (April 16)another journalist, Serhiy Sukhobok, was also killed in Kyiv. It's not known why he was killed and some reports in Ukraine say he was involved in a dispute with neighbours.
Sukhobok was an author of many thousands of essays on political, economic, social and legal matters.
So far the authorities have not commented on his death.