New Yorkers march in anger at deaths by police
Comments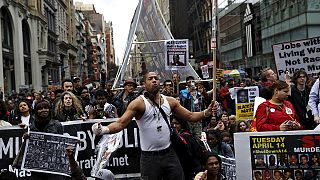 Hundreds of New Yorkers have marched through the city protesting at police violence against unarmed black men.
We can't have this you know because like why they gotta abuse us?
In particular the recent fatal shooting of Walter Scott who was unarmed when he was shot in the back by a white police officer in South Carolina. The shooting was captured on video.
"I just want to stop the police brutality against my Latinos and black people because 99 percent of the time the cops are out there in Bushwick, East New York, Harlem, everywhere committing violence against Spanish people, black people. We can't have this you know because like why they gotta abuse us?" said one protester.
Protests in U.S. cities against police violence prompt arrests: By Sebastien Malo NEWYORK (Reuters) – Protest… http://t.co/LrUV0JKYJJ

— Ramy Jabbar رامي (@Ramdog1980) April 15, 2015
Last year a tide of protests was inspired by a string of high-profile cases of black men losing their lives at the hands of white police officers.
But the protests following the deaths of Michael Brown in Ferguson, Missouri, and Eric Garner in New York slowed to a trickle over the winter.
During Tuesday's protest at least nine people were arrested following a brief scuffle with police after they crossed the Brooklyn Bridge.