[WATCH] Police car mows down armed suspect in Arizona
Comments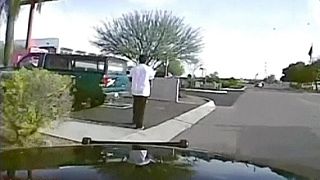 Shocking video has emerged of a police car in Arizona running over an armed man suspected of being behind a crime spree earlier in the day.
The incident happened in Marana, a suburb of Tucson, on February 19 this year.
Mario Valencia, 36, was carrying a rifle which he appears in the video – which was filmed by two police car dashboard cameras – to fire into the air. One of the police cars follows him slowly before the second vehicle accelerates and mows Valencia down.
Valencia survived the collision but will appear in court next month to answer a host of criminal charges. Before being stopped in such dramatic fashion he is accused of robbing a supermarket, causing a fire at a church, entering a home and stealing a car as well as the theft of a rifle and ammunition from a Wal-Mart.
While the manner of the arrest has provoked criticism in the US of excessive use of force, Marana police have defended their colleagues' actions, claiming Valencia posed a threat to innocent people in the area. No charges have been brought against any officer in relation to this incident.