Reserve officer faces 4 years in prison after Eric Harris shooting
Comments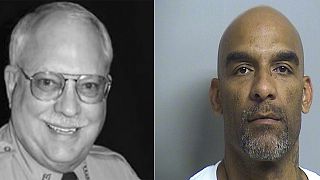 Oklahoma prosecutors have charged reserve deputy Robert Bates with second-degree manslaughter. If convicted, he could face up to four years in prison.
I'm losing my breath." <BR> "F**k your breath.
Hidden camera footage released by the Tulsa Sheriff's Department shows the undercover operation that lead to the fatal shooting of Eric Harris.
It shows Harris, a 44-year-old black man, looking nervous as he appears to sell a gun to a plain-clothes officer during the police sting.
When Harris spotted an undercover car pulling up, he fled the scene.
Moments later he was shot by reserve deputy Robert Bates who grabbed his handgun rather than his brightly-coloured and lethal taser, despite other deputies appearing to have full control of Harris who was lying face-down on the ground.
In the video, a man Oklahoma authorities identified as Bates is heard saying, "oh, I shot him. I'm sorry."
Harris is then heard shouting, "he shot me," followed by "I'm losing my breath."
An unidentified voice is heard saying "f**k your breath."
"F—- YOUR BREATH" angry cop yells as #EricHarris lies dying from gunshot, "SHUT THE F—- UP!" http://t.co/lBwN7RJYVdpic.twitter.com/wDcPnmd2DZ

— Anonymous (@occupythemob) April 12, 2015
Harris's brother said the shooting was unnecessary.
"He didn't have to," said Andre Harris. "This is something that either he didn't just really think about, or he just decided that he wanted to shoot and he would worry about it later."
Robert Bates, a 73-year-old insurance executive, volunteered as a deputy in his spare time.
Critics say he should have known the difference between his two weapons.
Oklahoma's Tulsa County Sheriff's Department said the shooting was an accident.
"Mr Harris fled. He disobeyed the orders of law enforcement," explained spokesman Major Shannon T. Clark. "He attempted to flee from capture. And when he was attempting to be subdued and still in a ground combat with deputies, this Deputy Bates approached, and he attempted to use a less lethal device, Inadvertently he used his handgun instead."
Last week, a white South Carolina officer was arrested and charged with murder after a video showed him fatally shooting an unarmed black man in the back.
The shooting was reminiscent of other police killings over the past year in cities including New York; Ferguson, Missouri; and Cleveland, Ohio, rekindling outrage over excessive use of police force against black men.
A real anti racist calls out the Blue Klux Klan of America #WalterScott#EricHarrispic.twitter.com/B5QGPAMsV2

— Lee Jasper (@LeeJasper) April 12, 2015
#EricHarris didnt have 2 die, we all know the reason why! The whole damn system's guilty. April 14th SHUT IT DOWN! pic.twitter.com/d2tsOJuSFX

— Emma Kaplan (@emmancipator) April 12, 2015
Incredible Tulsa PD statement on the reserve deputy who killed #EricHarris. They call the deputy the "victim." pic.twitter.com/IIS1dzqqU9

— ChristianChristensen (@ChrChristensen) April 13, 2015