G7 foreign ministers have 'world peace' top of their agenda
Comments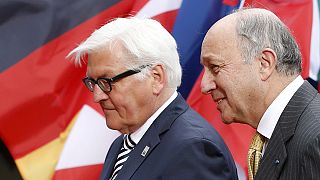 A meeting of G7 foreign ministers in the German city of Lübeck gets down to business today focusing on world conflicts.
Those taking part represent the world's major industrialised nations including: France, Britain, Japan, Germany, Canada, Italy, and the US. The EU is also represented.
Although Russia is not there, Monday's Berlin talks, over the Ukraine crisis (in which Russia participated), were described as a success with an agreement to push ahead with a withdrawal of heavy weapons.
G7 host nation Foreign Minister Frank-Walter Steinmeier hopes for more progress in Lübeck:
"We are confronted with countless armed conflicts, failing states, terrorist threats and human suffering. We need to join hands as governments and use the entire toolbox of political and diplomatic cooperation to solve these conflicts and work towards a more peaceful world."
Other issues on the table include conflcts in yemen, the Middle East, relations with Russia and Iran's nuclear dispute.
In the lead up to the talks thousands of protesters descended on the city to voice their opposition to capitalism and war.
Carrying banners saying "You are seven, we are seven billion against isolation, exploitation and war" – marchers are calling for the talks to be stopped.
#Germany: #StopG7 demonstration #Lubeck 14.04.15 pics via ThomasOccupy</a> <a href="http://t.co/2L306Dcah6">pic.twitter.com/2L306Dcah6</a></p>&mdash; Insurrection News (InsurrectNews) April 14, 2015
More than 3,500 police have been deployed to prevent a repeat of the anti-capitalism violence which marred the opening of the new ECB headquarters last month.
Germany currently chairs the G7 group. The meeting is a precursor to the G7 summit for heads of state and government set to take place near Munich in June. Russia had been part of what was formally known as the G8, before it was excluded over Moscow's annexation of Ukraine's Crimea region.