Russia abstains as UN votes 'yes' to Houthi arms embargo
Comments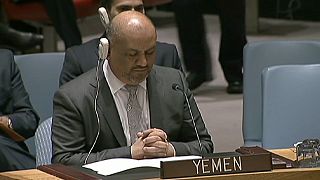 The United Nations Security Council has voted to impose an embargo on supplying arms to Shia Houthi rebels in Yemen.
Council members voted in favour of the ban and agreed to blacklist the son of Yemen's former president, as well as a key Houthi leader.
Russia abstained from voting; 14 other members voted for the ban.
UN Security Council sanctions supreme Houthi leader AbdulMalik & son of #Yemen ex president Saleh (Ahmed Ali) #اليمنpic.twitter.com/MWCBeheQ6K

— Yemen Post Newspaper (@YemenPostNews) April 14, 2015
Vitaly Churkin, Russia's ambassador to the UN, said some of its proposals for the resolution had not been included.
"There is no alternative to a political solution to the conflict in Yemen," he said. "We expect the UN to be more proactive and to resume peace talks between all parties in the Yemeni conflict. This needs to begin immediately, based on pre-existing agreements."
Yemen, the Arab world's poorest country, has been pushed to the brink of civil war. Houthi rebels, believed to be backed by Iran, now rule much of the country. Saudi Arabia recently launched a series of air strikes against Shi'ite militant positions in an attempt to help President Hadi regain control.
Iran denies supporting the Houthis and, on Tuesday (April 14), announced it would provide the UN with a four-point peace plan for Yemen by the following day.