Hillary Clinton kicks off campaign to become first female US president
Comments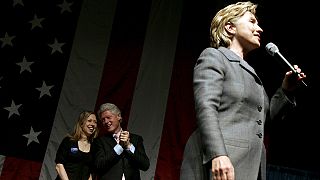 Casting herself as a champion for everyday Americans, Hillary Clinton is kicking off her campaign to become the first female US president.
She announced her bid on Sunday evening through a video on her website and on social media.
In Maryland, supporters are oozing with confidence as the former Secretary of State sets her sights on the Democratic nomination.
Clinton lost out to Barack Obama seven years ago.
"I went out an campaigned for her in 2008, and I have been waiting for this moment patiently – hoping that she would run again," said activist Virginia Miller.
Clinton's bid has also got tongues wagging at the MTV Music Awards in Los Angeles.Performer Jennifer Lopez was among the celebrities giving their reaction.
"Yeah, I mean I just heard literally down on the carpet. I'm excited about it. I think it's a great thing. I think she's ready for the task," said Lopez.
At the White House in Washington, views have been mixed about Clinton's bid. But one visitor said she is backing her all the way.
"Fabulous, fabulous, she's already got my vote," said the supporter, "you want something done right, you have a woman do it."
Clinton, who is the frontrunner for the Democratic nomination, will be focusing on her plans to tackle economic inequality.
But some liberals still need convincing that she's the best candidate for the job.
On the Republican side, a crowd of potential candidates are vying for the party's nomination.
Republicans have already taken a swing at Clinton over US foreign policy.