Prayers for peace as Russia and Ukraine observe Orthodox Easter
Comments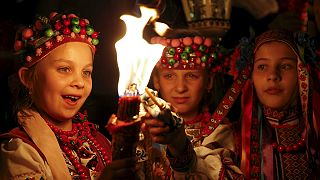 From Kyiv to Moscow, it is Orthodox Easter.
And while leaders are divided over the conflict in Ukraine, they have been united in observing sacred ceremonies marking Christians' belief in the resurrection of Christ.
Russian Orthodox Patriarch Kirill led the main service in Russia's capital, complete with Holy Fire brought from Jerusalem. He prayed for peace in Ukraine.
The Holy Fire is lit every year at the Church of the Holy Sepulchre in Jerusalem on the day before Orthodox Easter and is believed by Orthodox Christians to be a miracle.
Also present in Moscow's Christ the Saviour Cathedral was President Vladimir Putin, Prime Minister Dmitry Medvedev and his wife Svetlana – marking Easter along with Orthodox worshippers around the world, including Ukraine's Petro Poroshenko.
The Ukrainian President attended the main service in Kyiv's Volodymyrsky Cathedral, which was led by Patriarch Filaret.
The Ukrainian religious leader also prayed for peace but said he was "sure that God will send us a win over the aggressor".
For youngsters in traditional Ukrainian dress, also celebrating
Easter, this was a precious moment amid a crisis that has left more than 6,000 people dead.