Women's surfing: Moore of the same at Bells Beach
Comments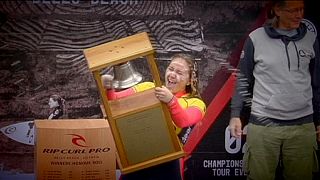 Two time world champion Carissa Moore from Hawaii won the right to ring the trophy bell after reigning supreme at the Rip Curl women's pro Bells Beach on the gold coast.
Moore beat Australian Stephanie Gilmore in the final to celebrate her third consecutive victory at the event that started in the 1960s.
The win cements her spot at the top of the rankings.
It means she'll keep the traditional yellow jersey when she takes to the waves at the next stop – The Margaret River Pro, south of Perth in western Australia next week.