Mother of accused 'killer cop' Michael Slager speaks out
Comments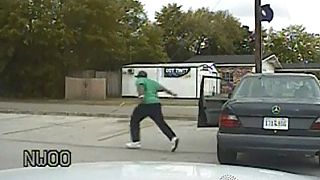 The mother of the white police officer charged with murdering Walter Scott, a black father-of-four, last week has spoken about the tragedy.
Michael Slager's mother, Karen Sharpe, was asked by US network ABC News if she was worried that she may never see her son free again.
"I just have to let it be," she said. "And hope that God takes care of everybody involved. Not only my family, but the Scott family because I know they're grieving just like I'm grieving. So I want them to know that."
Walter Scott was shot and killed by Slager following what appeared to be routine traffic stop for "a broken tail light." It has since emerged that South Carolina traffic legislation only requires vehicles to be equipped with "a tail lamp."
After 50-year-old Scott was murdered, police promoted their own version of events. That was contradicted when video footage of the incident emerged.
Slager has been fired from his police job and is now in police custody pending a court hearing in August. If convicted of murder he could spend anything from 30 years to life in prison.
It's important we bear witness to #WalterScott's shooting. It's equally important to remember him like this, too. pic.twitter.com/goUmdVAU4h

— reported.ly (@reportedly) April 8, 2015