French TV network and websites taken over in hacking attack claimed by ISIL
Comments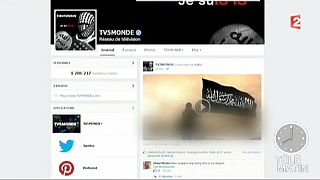 Eleven television channels and the websites of the French broadcaster TV5 have been taken over in a hacking attack claimed by supporters of ISIL.
The daring attack saw propaganda material posted on the websites, and there were blank screens for hours on the TV channels.
#French TV Station #TV5Monde' broadcast, website, Facebook hacked by pro-ISIS hackers | http://t.co/OXhTGzoJ0gpic.twitter.com/iJtfbnJgn4

— Hack Read (@HackRead) April 9, 2015
Yves Bigot, the Director General of TV5, said: "We noticed that unidentified people had already made several attempts to break into our system but they didn't do anything.
"So this leads us to believe that yes this was an attack that had been planned for some time."
TV5 says it is working with national security officers to try to track down who is responsible and how firewalls at the channel were able to be breached.
The world service of TV5 is broadcast in more than 200 countries.
#SocialMedia: French TV Network TV5Monde Hit by 'Islamist' Hackers: An "Islamist… http://t.co/7Vmi2XbdQk#SMM↬http://t.co/ropvf6MCAK

— Web Marketing Buzz (@Go2WebMarketing) April 9, 2015
#TV5MONDE network hijacked by pro-IS hackers. You can find more background on cyber jihad: http://t.co/kScMi6fKorhttp://t.co/3AiDyDY0nI

—

ICCT

– The Hague (@ICCT_TheHague) April 9, 2015
TV network #TV5Monde hijacked by Isis hackers http://t.co/HRqrV6YWvl#cyberwarfare is the new black

— Joakim Lundberg (@lundberg_atwork) April 9, 2015
Hacked French TV network unable to broadcast loses control of websites and soc media sites: http://t.co/zllgA2a9sc#TV5MONDE

— Crisis Solutions (@Crisisolutions) April 9, 2015