Urgent medical supplies and other aid due in Yemen
Comments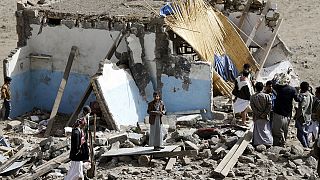 As the number of casualties in the Yemen conflict rises, the Red Cross is attempting to fly in two plane loads of medical supplies and other aid.
The hospitals are suffering a lot; they are unable to care for the large numbers of wounded
There is rising concern about the humanitarian situation on the ground, with civilians caught up in fierce fighting.
Some 48 tons of aid is due to arrive on Wednesday or Thursday, but it is not going to meet the needs of everyone.
International Committee of the Red Cross spokesperson Marie Claire Feghali said: "The hospitals are suffering a lot; they are unable to care for the large numbers of wounded.
"And there are also the bodies on the streets, which the families are unable to pick up and bury in a suitable way."
We're loading a cargo plane in Amman w/ medical supplies to treat 1500 wounded. Bound for Sana'a #Yemen tomorrow.

—

ICRC

(@ICRC) April 7, 2015
At least 550 people are reported to have been killed in two weeks of fighting, with many more wounded.
Saudi-led airstrikes and forces loyal to exiled president Abd-Rabbu Mansour Hadi have failed to halt the advance of Houthi rebels and their allies.
Iran, which is allied to the Houthis, has condemned the Saudi-led coalition's military intervention in Yemen.
There are calls in the UN Security Council for the son of former president Saleh to be blacklisted, with an embargo imposed on the rebels.
The demand comes from Gulf Arab countries and Jordan.
Washington, which is backing the Saudi-led coalition, also says it has sped up the delivery of arms and boosted intelligence sharing.
Adding to the increasing sense of chaos in Yemen, Al-Qaeda is reported to be taking advantage of the confusion.
Militants are reported to have taken over a border post between Yemen and Saudi Arabia on Tuesday.
This just days after Al-Qaeda launched an attack on the port town of Mukalla.
PHOTOS: The aftermath of airstrikes in #Yemen. http://t.co/pj7kv7WvVRpic.twitter.com/IMrfc6XvCG

— Reuters Top News (@Reuters) April 6, 2015
Red Cross says situation 'catastrophic' in Yemen's Aden http://t.co/FQmS53M3Hypic.twitter.com/8B4hu9a3A9

— Agence France-Presse (@AFP) April 8, 2015