No financial aid request from Tspiras in Moscow
Comments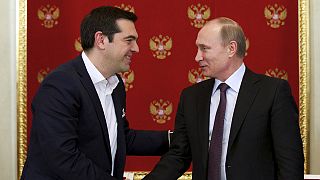 Greek Prime Minister Alexis Tsipras discussed bilateral cooperation during talks in Moscow but did not ask for financial aid.
Russian President Vladimir Putin said Moscow could provide credit for some big joint projects with Athens in the future, such as the proposed Turkish Stream pipeline to carry natural gas to Europe.
"Greece did not ask us for any help. (…) If we implement some major projects that bring profit to Greece it means Greece could pay back its loans from those profits," said Putin.
He said the project could earn Greece "millions of euros" every year and that Athens' Western creditors would also benefit should the Greek economy improve as a result of closer economic cooperation between the European Union member state and Russia.
Alexis Tsipras said that Greece did not intend to go from country to country and ask for help. A European problem, he said, requires a European solution.
"Greece is not a beggar going from country to country asking them to solve its economic problems. The economic crisis is not just Greek, it is a European crisis," he said.
"Greece as a sovereign country has the inalienable right to a multi-dimensional foreign policy and seek to play a geopolitical role," added the Greek leader.
Before the meeting, Tsipras took part in a wreath-laying ceremony at the Tomb of the Unknown Soldier outside the Kremlin walls.
He will be in Moscow until Thursday (April 9).