Ukraine soldiers fighting in Donbass get Easter muffins
Comments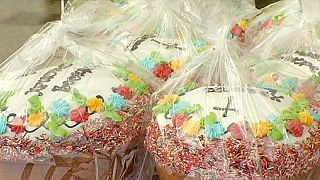 Ukraine celebrates the Orthodox festival of Easter this Sunday (April 12). Many Ukrainian soldiers fighting in the Donbass region will be away from their loved ones. Volunteers all over the country have been baking traditional Easter muffins to send to the soldiers.
Viktoriya Kuznetsova, together with her daughter, have been busy in their kitchen.
They spent one day baking 100 Easter muffins, and one month making little yellow and blue baskets for the cakes.
"I'm really worried about our guys," Viktoriya told euronews. "They live in such tough conditions. And not everyone will have the opportunity to go to church (on Sunday). So I want to send them something from home – these Easter gifts, so they can celebrate the festival and enjoy the holiday."
Other traditional Easter cakes called 'paska' are prepared by the Ukrainian Orthodox Church.The head of the Church blesses them before they're sent to the soldiers serving in the east.
Euronews spoke to Vitaly Tsyhankov, a former soldier who always appreciated gifts from home.
"When I was in Donbas the volunteers came to visit us every two weeks. That's so important because it raises soldiers' spirits. They also need to celebrate," he said.
Euronews correspondent Maria Korenyuk reported:
"Volunteers will bring all these Easter presents to Donbas before Saturday evening .. so that tens of thousands of Ukrainian soldiers can celebrate the greatest Orthodox holiday, even though they are far away from home."
#easter#eggs#ukraine#chicken#delicious#holiday#пасха#великодень#украина #украïна #пасочки#foodpics#cooking#paska_… pic.twitter.com/iTyricdwZC

— Фото из Харькова (@InstaKharkov) April 19, 2014
#Paska#Ukraine#PassionFriday# Ukrainian Easter Bread (Paska) on Passion Friday before Easter #киевpic.twitter.com/XkGzlzJzN2

— Фото с Майдана (@InstaMaidan) April 18, 2014