Kenya bombs al-Shabaab camps after Garissa massacre
Comments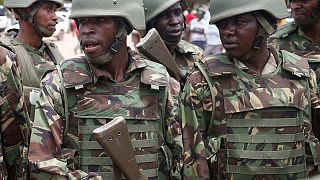 Kenya's air force has bombed two al-Shabaab camps in Somalia.
Jets pounded the sites in the Gedo region on Sunday. Defence officials say militants are coming from the area to launch attacks in Kenya.
The strikes come after the militant group attacked Garissa University College in Kenya. Gunmen, who singled out non-Muslims, killed 148 people.
An investigation is underway to find the suspected mastermind behind the Garissa massacre – Mohamed Mohamud.
It has also emerged that one of the four gunmen who raided the university has been identified as the son of a government official.
Dozens of grieving families are still trying to identify the bodies of the Garissa victims.
Amid the distress, there is also anger, with claims the security response to the attack was bungled.
Garissa was the most deadly attack on Kenyan soil since al Qaeda bombed the US embassy in Nairobi in 1998, killing more than 200 people and wounding thousands more.
Kenya has been struggling to stem the flow of al-Shabaab militants and weapons across its border with Somalia.
The violence has also damaged Kenya's economy, putting off tourists and investors.