Japan: Okinawa governor stands firm on opposition to US military base
Comments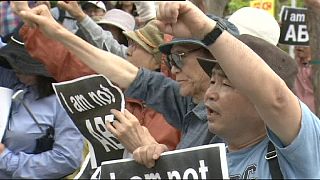 Tense talks have failed to resolve a row between Japan's central government and
the governor of Okinawa who fiercely opposes Tokyo's plans to relocate a US military base from one part of the southern island to another.
Chief Cabinet Secretary Yoshihide Suga travelled to the island to try to convince governor Takeshi Onaga to drop his opposition to the project.
Suga insisted that moving the Futenma airbase was the only way to maintain Japan's alliance with the US while removing the dangers presented by its current location in a densely populated area.
But Onaga was having none of it.
"People in Okinawa never volunteered to host military bases…And the more the government insists the work continues, the more alienated and angry the people of Okinawa become," he told the government envoy.
Onaga was backed up by protesters outside the talks. Okinawa residents have long resented hosting the bulk of US forces in Japan, associating their bases with noise, pollution and crime.
But Prime Minister Shinzo Abe's government has already overruled a local order to halt the work on environmental grounds and he will be keen to resolve the issue before visiting the US later this month.