Yemen: Suspected al-Qaeda militants liberate inmates of Mukalla prison
Comments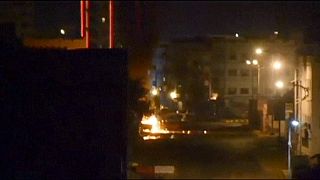 Some 150 inmates were freed when suspected al-Qaeda militants stormed a prison in the Yemeni port town of Mukalla.
One of the escapees was provincial al-Qaeda leader Khaled Batarfi, police sources claim.
About one-third of people freed in a prison break in Yemen were AQAP militants: http://t.co/inLsAQB8Z5pic.twitter.com/8AZ0x8ZFEH

— Wall Street Journal (@WSJ) April 2, 2015
al-Qaeda takes full control of Al Mukalla, fifth largest city in Yemen. via /r/worldnews http://t.co/pdtJf56kXppic.twitter.com/UdjVCi3TnI

— Maximilian Apitz (@MxAxXxI) April 2, 2015
Aden
Meanwhile, forces loyal to Yemen's President Hadi battled against Houthi rebel fighters in the second city Aden, but were unable to prevent the Shia militants from seizing control of parts of the district.
NEWS UPDATE: The Houthis are continuing to make gains in Aden http://t.co/lEEzJj9vYZpic.twitter.com/tH3j7f2N2v

— Middle East Eye (@MiddleEastEye) April 2, 2015
Photos: #Aden has turned into a total war zone. Dangerous situation on the ground #Yemenpic.twitter.com/RuqJX73Llq

— Conflict News (@rConflictNews) April 2, 2015
Saudi fatality in Asir
The border town of Asir has seen its first known Saudi fatality.
Corporal Salman Ali Yahya al-Maliki, a border guard, was killed and ten others injured when their observation post came under fire.
Reports of the first saudi soldier killed by Houthi's near Asir since the start of the operations Sulaiman Al Maliki. pic.twitter.com/dqz1Q8E2uO

— Yemen Observer (@YemenHeadlines) April 2, 2015
Saudi Arabia is a week into a military campaign to assist Yemen's pro-government forces in the fight against the Houthis.
The Governor of Asir today visited the Dhahran Aljanub border area and met with Border Guard units stationed there pic.twitter.com/Lj5F78j4CX

— فيصل بن فرحان (@FaisalbinFarhan) March 29, 2015
Sana'a
But despite being hit with a number of Saudi-led airstrikes, rebel fighters have gained ground.
Sanaa protest today against the Saudi/US led air strike pic.twitter.com/NZC8Mniuvr

— Hussain Albukhaiti (@HussainBukhaiti) April 1, 2015
At least 62 children killed in #Yemen in past week: #UNICEF  #UnitedNationshttp://t.co/kICyodnLzSpic.twitter.com/AIKrdQB49h

— United Nations News (@UNolizer) April 1, 2015
Shi'ite militants took over the capital Sana'a six months ago with supporters of Yemen's former president, Ali Abdullah Saleh. Iran denies allegation it is backing the rebels.
Sanaa our capital is on fire..... all this fire is fuelling our will and determination to stand together as Yemenis. pic.twitter.com/TPjGP2svov

— Hussain Albukhaiti (@HussainBukhaiti) March 30, 2015