Iran's nuclear talks with P5 face steady pressure from ultra-conservatives
Comments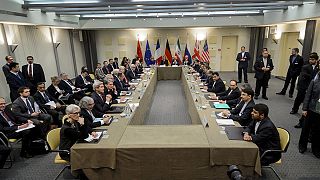 The deadline has come and gone and a preliminary deal over Iran's nuclear programme continues to be elusive.
There has been lots of talking between world leaders and Iran in Lausanne, Switzerland, but they have been getting bogged down over the details of the accord — even though the broad outlines of an agreement have been reached.
The sticking points are said to be over the future of atomic research and international sanctions, which are crippling Iran's economy.
We asked political science professor Sadegh Zibakalam about his position, that in spite of major progress in the negotiations problems remain.
Nima Ghadakpour, euronews: "What is standing in the way of an agreement between Tehran and the 5+1 powers [also known as P5, the UN Security Council permanent members the US, United Kingdom, Russia, China, and France, plus Germany]?"
Sadegh Zibakalam: "The main obstacle is that for 36 years there has been mutual suspicion between Iran and the United States. In the past 19 months, however, the Americans have found a government they can trust. If there is an agreement, they can count on this government. The diplomats negotiating are still under pressure from both countries' ultra-conservatives, though. Obama's administration has the neo-conservatives pressuring it, and Israel. That's why the Americans want this deal to reassure both sides of the political divide in the US that if Iran one day wanted to move towards building nuclear weapons, it would need a lot of time. On Iran's side, the regime wants sanctions lifted swiftly."
euronews: "Israel's minister of information [Intelligence Minister Yuval Steinitz] has said that if an agreement comes out of Lausanne, the option of a military strike will remain valid. What message, in your opinion, does that send to the talks in Switzerland?"
Zibakalam: "The hardliners on both sides do the same thing. Yesterday in Iran, General [Mohammad Reza] Naghdi, commander in chief of the Bassij [security force], again talked about wiping Israel off the map. In my view, you shouldn't talk like that just when Iran is negotiating. It corresponds exactly to the Israeli minister's remark. This is a fragile moment here. Everyone who would like to see an end to the Islamic Republic of Iran is angry at the prospect of a nuclear agreement, and the Israeli government is one of them. Therefore, the people who want the Iranian regime to fall, once an agreement becomes a reality will have to face it: the Islamic Republic will be stronger."
euronews: "From where you are in Tehran, what are the expectations of the Iranian people about this negotiation process?"
Zibakalam: "In spite of Iranians celebrating their New Year and being on holiday, a lot of people have been listening to the radio at the same time, or watching television to know the outcome of the marathon in Lausanne. I think that they haven't cared this much about such a sensitive subject since Iran's war with Iraq."