Iran reaches framework agreement with six world powers over Tehran nuclear programme
Comments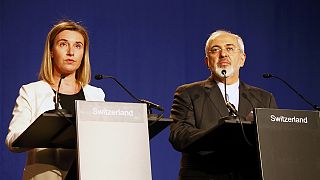 After eight days of marathon talks in Switzerland, Iran and six world powers have reached a breakthrough framework agreement on Iran's nuclear programme.
It has been agreed that more than two thirds of Iran's enrichment capacity will be decommisioned and monitored for 10 years if the parties can reach a comprehensive agreement by June 30.
If there is a final deal, Tehran would ship abroad most of its enriched uranium stocks.
Different restrictions on Iran's nuclear programme would continue for a quarter century. In return for compliance, international sanctions will be gradually lifted.
Iran's president said that drafting the comprehensive agreement would start immediately.
Solutions on key parameters of Iran #nuclear case reached. Drafting to start immediately, to finish by June 30th. #IranTalks

— Hassan Rouhani (@HassanRouhani) April 2, 2015
France's Foreign Minister Laurent Fabius said on Thursday a framework agreement on Iran's nuclear programme was a "positive step", but questions still needed to be answered.
"It's a positive step, but at the same time there are still questions and details that need to be resolved," Fabius told reporters.
Germany's foreign minister said a preliminary agreement reached on Thursday to contain Iran's nuclear programme represented a "big, decisive step forward" that could lead to an easing of tensions across the Middle East if a final deal was clinched in over the coming months.
"It is too early to celebrate. Nevertheless, with the framework agreement we have overcome obstacles that stood in the way of a deal for a decade," Frank-Walter Steinmeier said in a statement.
"If a final agreement is achieved, it could in my view not only pave the way for a solution to the Iran conflict, but it would be the first and only conflict in the Middle East where we will have achieved a deescalation. It could therefore provide hope for an easing of tensions in the region and between Iran and Arab states," Steinmeier added.
According to the statement, Iran would agree to sign up to limits and monitoring of its nuclear enrichment programme for a period of up to 25 years. In the first 10 years, more than two-thirds of the current enrichment capacity must be decommissioned, and over 95 percent of its enriched uranium diluted or exported.
All of Iran's nuclear activities would be subject to the "strictest oversight" by the UN's nuclear watchdog. The agreed regime was "unprecedented in its intensity and duration", the statement said.
If Iran violates the agreed rules, sanctions could be reintroduced immediately, the statement added.
FM #Steinmeier: After tough negotiations w/ #Iran, we have agreed on framework for final agreement. Important step forward! #IranTalks 1/5

— GermanForeignOffice (@GermanyDiplo) April 2, 2015