As Chad's army battles Boko Haram its people find themselves on the front line in the fight
Comments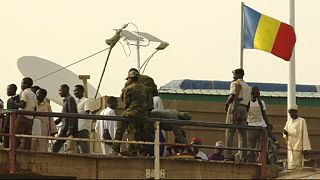 Chad's army reported its forces had killed hundreds of Boko Haram militants in clashes in Northern Nigeria on Wednesday.
But as its army becomes increasingly embroiled in the battle against the Islamists there is a growing tension in its towns and cities.
Security checks are frequent – youngsters included as the militants have been known to use them as human bombs.
Chad's joint offensive with Niger and Nigeria means the Chadian people are now on the front line.
Reporting for euronews from Chad is Luis Carballo:
"One of the places in Chad where Boko Haram's threat is most acute is the Ngueli bridge. It links Cameroon to the outskirts of the Chadian capital, Ndjamena. Controls have been reinforced to avoid terrorist attacks and the illegal entry of guns."
Customs officers have established a basic but effective system – if a face doesn't fit, arrests are made.
Mbainaissem Amon is a police officer and insisted things are under control:
"Here we have the total security with the Gendarmerie everywhere," he said. "It's needed as protection against Boko Haram who operate between the countries,. So at 7 o'clock in the morning the bridge barrier is opened for the students who come from Kousseri to Chad where they study in our schools… yes there is complete security in Chad."
But the consequences of Boko Haram attacks go further. Frontiers with land-locked Chad have been closed or restricted and imports have become an expensive life line. Chad is fighting for its economic survival.