Beatle John Lennon's first wife Cynthia dies aged 75
Comments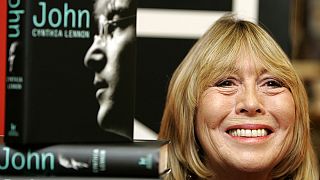 Cynthia Lennon, first wife of late Beatle John Lennon, has died, her family said on Wednesday. She was 75.
"Cynthia Lennon passed away today at her home in Mallorca, Spain, following a short but brave battle with cancer," according to a statement on her son Julian's website.
"Her son Julian Lennon was at her bedside throughout. The family are thankful for your prayers," it added.
Cynthia Powell and Beatle John Lennon were married in 1962. They divorced in 1968, when he left her for Japanese artist Yoko Ono. John Lennon was shot dead in New York in 1980 at the age of 40.
Ono said in a statement on Wednesday that she was "very saddened" by the news. "(Cynthia) was a great person and a wonderful mother to Julian. She had such a strong zest for life and I felt proud how we two women stood firm in the Beatles family."
Former Beatles Paul McCartney and Ringo Starr added their condolences.
"She was a lovely lady who I've known since our early days together in Liverpool. She was a good mother to Julian and will be missed by us all, but I will always have great memories of our times together," McCartney, 72, said on his website.
Peace and love to Julian Lennon God bless Cynthia love Ringo and Barbaraxx

— Ringo Starr (@ringostarrmusic) April 1, 2015
(Reuters)