Air strike hits Yemen refugee camp as Saudis consider talks
Comments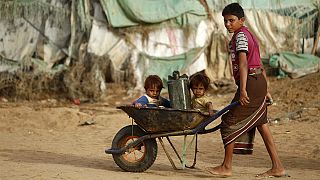 An air strike hit the area of the Mazraq refugee camp in the northern Yemen district of Haradh on Monday, killing 21 people, humanitarian workers told Reuters.
One humanitarian official said the bombing had targeted a military installation in the vicinity.
A Saudi-led coalition is bombing Iran-allied Houthi militiamen and military units fighting alongside them as they advance to the south, towards the port city of Aden, the last bastion of President Abd-Rabbu Mansour Hadi.
Meanwhile Saudi Arabia is open to a meeting of all Yemeni political parties who are willing to preserve Yemen's security and stability, state news agency SPA quoted King Salman as saying in a cabinet statement on Monday.
Such a meeting of must be "under the umbrella of the Gulf Cooperation Council in the framework of preserving legitimacy and rejecting (attempts) to turn against it," the statement said.
The conditions for the talks would include returning weapons to state authorities and not threatening the security of Yemen's neighbours, it added.
Warplanes from Saudi Arabia and Arab allies have been striking Shi'ite Muslim rebels fighting to oust Yemen's president, in an attempt by the regional heavyweight to check Iranian influence in its backyard.