Mexico: Guerrero students in 'hijacked bus' clash with police
Comments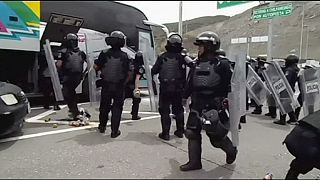 Students travelling in a hijacked bus have clashed with police in the Mexican state of Guerrero.
Local media reports police stopped the coach due to allegations the students had stolen a gas pipe. Mostly masked, the students are later said to have set fire to two emergency service vehicles.
The incident came just days after a march in Mexico City marking six months since 43 students disappeared, in a suspected massacre.