Nigeria braces for post-election violence and bloodshed
Comments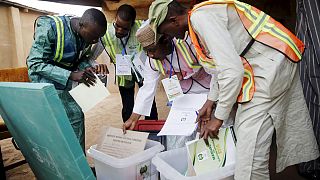 Some 69 million voters across Nigeria are heading to the polls today (March 28) to choose their new president. Incumbant President Jonathan will face former military ruler Muhammadu Buhari in what is seen as the closest presidential race since the end of military rule in 1999.
In a broadcast to the nation on Friday, Jonathan said no political ambition could justify violence or bloodshed, adding that security measures had been taken to guarantee a free and fair election.
"Let me warn, however, that as President, Commander-In-Chief of the Armed Forces, I am under oath to protect the lives of all Nigerians and the security of our country at all times. I will never abdicate my responsibilities in that regard," he said.
"Those who may harbour any intentions of testing our will by unleashing violence during the elections in order to advance their political ambitions should think again," Jonathan said.
He added that security agencies were ready to deal with anyone who tried to disrupt the peaceful conduct of the elections or cause public disorder in the country, Africa's top oil producer and biggest economy.
Around 800 people died in post-election violence in 2011 in which Jonathan defeated Buhari. Western powers have been pressing both sides not to stoke tensions, with US President Barack Obama issuing a direct appeal for calm this week.
In the capital Abuja, however, long queues formed outside banks from people seeking to withdraw money. Queues for fuel also stretched for hundreds of metres in cities across the country.
"I'm getting my cash out now because I don't know what is going to happen. If it gets bad, you don't want to be stuck with no cash," Wale Olatunji, a businessman queuing in the sun at a bank in Abuja, said.
Prayers were said for a peaceful election and a stable future for Nigeria.