Alpine plane crash: Locals say prayers for Germanwings victims
Comments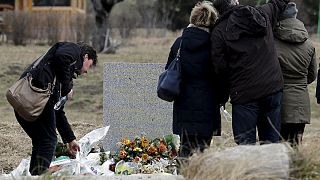 Local people living near the Alpine crash site where a Germanwings passenger plane carrying 150 people crashed on Tuesday have held a religious service to show solidarity and support to victims' relatives.
Those living in Digne-les-Bains and surrounding towns and villages are still coming to terms with the tragedy, believed to have been caused deliberately by Andreas Lubitz, the co-pilot of the Airbus A320.
"It is terrible," said resident Lydie, struggling to hold back tears.
"It is horrible for the families left behind. I can't put it into words. Deep down inside, I am broken."
The recovery teams facing a difficult and dangerous task were also remembered.
But those who lost loved ones in the crash – mainly Spaniards and Germans – were at the forefront of worshippers' minds – and readings were delivered in those languages.
Max Pignede, visiting his family home in Digne-les-Bains, spoke to the congregation in German, telling them:
"Let's pray for the relatives of the victims, so that they may find solace and courage in the sympathy shown by the entire world."
At the nearby memorial to those killed, there was a visit from the family of the flight captain who battled so hard to save his passengers, desperately trying to break down the door to reenter the cockpit.
Identified by the international media as Patrick Sondenheimer, he leaves behind a wife and two children.