Dusseldorf church memorial for plane crash victims
Comments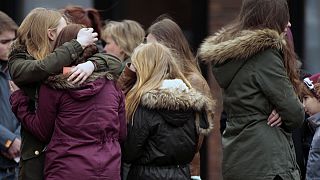 A special church service was held in Dusseldorf's Catholic Basilika, St. Lambertus on Friday to commemorate and remember the victims of the Germanwings plane crash earlier in the week.
Three generations of Juan Pardo's family were on board the plane: his wife, daughter and granddaughter.
"The fact is I lost three loved ones, I don't care if it was an accident or whatever it is," he told reporters. "I don't want to know and I'm not interested. I will return with all my children to the place where all of them died."
Christoph Doerpinghaus, an emergency services grief councillor, said: "If someone has run amok or committed murder suicide, those are more difficult circumstances, so it does get harder to deal with the grief," explained
Relatives of those killed in the Germanwings air disaster laid flowers at a memorial in a mountain valley close to where the plane crashed.
The stone memorial in France's Le Vernet region reads: "In memory of the victims of the crash".
One Spanish man, flanked by consular officials, visited the memorial to pay tribute to his brother who was one of the 150 victims
Mayor of Le Vernet, Francois Balique said family and friends of victims were more than welcome to visit his town, and pay their respects.