Frontier challenges: crossing borders to get an education
Comments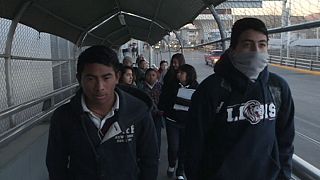 Whether it's travelling across physical borders or crossing a cultural divide, some students around the world undertake difficult journeys to get an education. In this edition of Learning World we look at three such cases in different parts of the world.
Mexico
In parts of Mexico ravaged by violence some children face major challenges in their school life. One project is providing access to a safer learning environment. But it means crossing the border into the United States. It's not an ideal situation but as we discover in this report it can be highly rewarding in the long run.
Moldova
Transnistria broke away from Moldova 25 years ago and ever since Russian influence has characterised the region and its education system. But there are some students who prefer to travel to other side of the border to go to school, as we find out in this story.
Northern Ireland
Despite the peace agreement, political and religious divides still exist in the hearts and minds of many people in Northern Ireland. One project is trying to break down these walls. Find out more in our final report.