Argentina President Fernandez bombing case could be reopened
Comments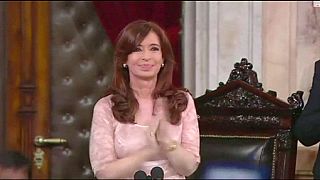 Last month's court decision that cleared Argentina's President Cristina Fernandez of charges that she tried to derail the investigation into a deadly 1994 bombing was upheld by an appeals court on Thursday.
The late Argentine prosecutor Alberto Nisman had accused Fernandez of trying to cover up Iran's alleged involvement in the truck bombing of a community centre in Buenos Aires. He alleged that she attempted to whitewash the attack in order to clinch a grains-for-oil deal with Tehran.
A court cleared the president of the charge last month and Iran denies any involvement in the bombing.
The judges who make up Argentina's Federal Appeals Chamber voted 2-1 to reject the appeal "due to lack of evidence" against Fernandez, according to the official ruling. A second attempt at re-opening the case could be made to another appeals court, or brought directly to Argentina's Supreme Court.
Nisman was found shot dead in his apartment four days after lodging his complaint against Fernandez. His mysterious death spawned a slew of conspiracy theories, some involving Fernandez, whose last months in office could be overshadowed by the case.