Lufthansa expresses shock but calls Germanwings tragedy an "isolated incident"
Comments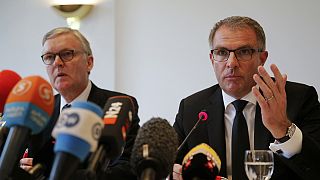 Lufthansa, the parent company of Germanwings, says it is shocked by the news the co-pilot seems to have crashed the plane deliberately.
It says it has no information that could explain the actions of Andreas Lubitz, but did give some details about his past.
The chief executive said six years ago, during his training, 28-year-old Lubitz took a long break. He says new technical and psychological tests were carried out when he restarted. No reason for the break was given.
Luthansa says Lubitz, who began with the company as a steward, was perfectly capable of flying the aircraft.
However, it is reported Lubitz had only 630 hours of flying time compared to the captain's more than 6,000 hours.
The company says the tragedy has to be treated as an isolated incident and no system can 100 percent exclude this kind of tragedy.