UN warns Yemen is on the brink of civil war
Comments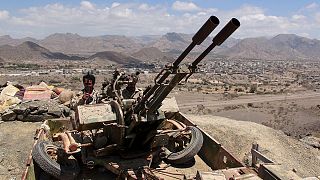 At least one person was killed and several others injured after Houthi rebels fired on protesters in the Yemeni city of Taiz.
Thousands of residents had poured onto the streets to object to the Shi'ite rebels seizure of the country's third largest city.
The UN Security Council on Sunday warned the county was on the brink of civil war.
Jamal Benomar, UN special envoy for Yemen said: "Any side that would want to push the country in either direction would be inviting a protracted conflict in the vein of an Iraq-Libya-Syria combined scenario."
Violence has been spreading since Houthi militia seized the capital Sanaa, effectively removing Yemen's President Abd-Rabbu Mansour Hadi who has set up a base in the port city of Aden.
Following the UN's warning the leader of the powerful Houthi movement (Abdel-Malek al-Houthi) appeared on television to justify mobilising his fighters.
He vowed to continue his anti-government offensive and to pursue ISIL militants who have claimed responsibility for Friday's suicide bombings in the capital.
More than 130 people died and hundreds more were injured when two mosques were attacked.