Ashya King 'free from cancer' 7 months after leaving Britain
Comments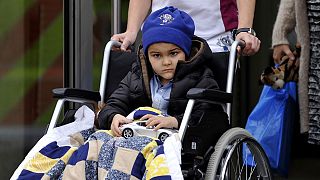 The parents of Ashya King, who sparked an international manhunt when they withdrew their child from a public hospital to seek treatment abroad, say their son in now free of cancer.
Brett and Naghemeh King were briefly imprisoned in Spain on the request of Britain after taking Ashya to seek Proton Therapy treatment following the removal of a brain tumour. Stung by a public backlash, the authorities relented and allowed the King family to continue their journey to Prague for the course of radiation therapy, which is not available in the UK.
Mr King told the Sun newspaper that there was now no sign of the cancer and that Ashya had recovered enough to be playing with his siblings in the park.
"It's incredible news. We are absolutely delighted. It has justified everything we have gone through because things are working out for Ashya," he said.