Father of modern Singapore Lee Kuan Yew dies aged 91
Comments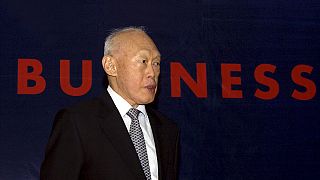 Singapore's first prime minister and renowned statesman Lee Kuan Yew has died at the age of 91.
Lee was the architect of the tiny city-state's rapid rise from British military outpost to global trade and financial centre.
Respected on the international scene he has been described as one of Asia's most inspiring leaders but at the same time he attracted criticism for his iron grip on power.
Under him freedom of speech was tightly restricted and there was little tolerance for opposition views or dissent.
Considered a charismatic figure, Lee co-founded the People's Action Party, which has governed Singapore since 1959. He served as prime minister for 31 years, and continued to work in government until 2011. He also maintained an influential figure in the current government of Prime Minister Lee Hsien Loong, his oldest son.
Officials in Singapore said Lee died in Singapore General Hospital where he was admitted last month suffering from pneumonia.
RIP#Singapore 1st PM #LeeKuanYew (91): Sometimes harsh in methods Always strong of will Never short of determination pic.twitter.com/ch4FNC7mRa

— Adil Najam (@AdilNajam) March 22, 2015