Thousands join anti-austerity march in Madrid
Comments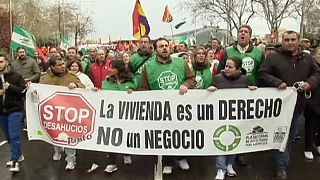 Thousands of demonstrators have taken to the streets of Madrid, as the pain of austerity continues to strike.
Those here are calling for more jobs and affordable housing, with EU-imposed cost-cutting fueling poverty among Spain's worst off.
The so-called "Dignity Marches" have brought together more than two dozen groups from across the country.
"We have to think about the youth. So many people are going abroad because they cannot live here. This is a shame," said one man.
"This is unacceptable, all these privatisations," a woman added, "We have been cut out of health, education, all the basic pillars for citizenship. And every day there are more and more poor people who have nothing to eat. It's a shame what is happening. This isn't shown on TV."
Spain has been feeling the pinch since a housing bubble burst more than five years ago – forcing a 41 billion euro bailout of the country's banks and making it impossible for many homeowners to make ends meet.