Egypt: 15 people killed in deadly bus crash
Comments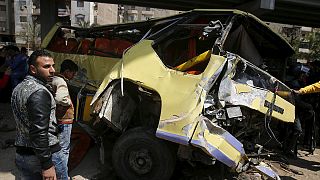 At least fifteen people have been killed in Egypt when a bus veered off a bridge in Giza.
The driver had been trying to avoid another vehicle on the road when it fell off the bridge.
"…the bus jumped off the bridge, there was a car in front of it, so it took a right and it fell. The driver and four others jumped off it. We got them out, then the ambulances came and took them. Then 10 minutes later, the rescue team arrived, that's what happened. All the rest are in the water. The residents were the ones who got them out," said Raafat Mohamed Abdel Salam, who works as a security guard in a building close to the accident.
Egypt has a high number of deadly road accidents every year, blamed on poorly-planned infrastructure and dangerous driving.